DONíT MISS THE EVENT THAT WILL HELP MAKE YOUR BUSINESS MORE SUCCESSFUL!


Click Here To Register Online, or
Click Here To Download and Print Registration Form
** All Sponsorships SOLD OUT **
Click

Here

For Remaining Tabletop Exhibits & Advertising Form
Itís more important than ever for you to know the very latest and best methods for running a successful & profitable tortilla business through learning whatís new in improving your products, reducing costs, making your company more competitive, staying abreast of regulations, and seeing real-world operations of tortilla factories.

By attending TIAís Technical conference you will learn of some new and innovative ways to thrive instead of just survive. You will also meet and get to know many people who you can do business with or learn from. Come and Invest Just Two Days of your time at this all-new Tech Conference, Thursday and Friday May 10th & 11th, 2012 in a great location at the Disneyland Grand Californian in Anaheim CA

And because its so close to a weekend, bring your family and enjoy special discounted TIA group rates at Disneyland!

Click Here For Hotel Registration


Do Not miss this opportunity for on-site learning from Experts in the business!

This Yearís 2-Day Program Will Have:
* A Full Day Of Classroom Instruction
* Tabletop Exhibits & Cocktails Reception
* Field Trip & Factory Tour With On-Site Instruction
* Open Microphone In Sessions To Get Advice and Answers From Other Attendees

To Download Copy of Agenda Click HERE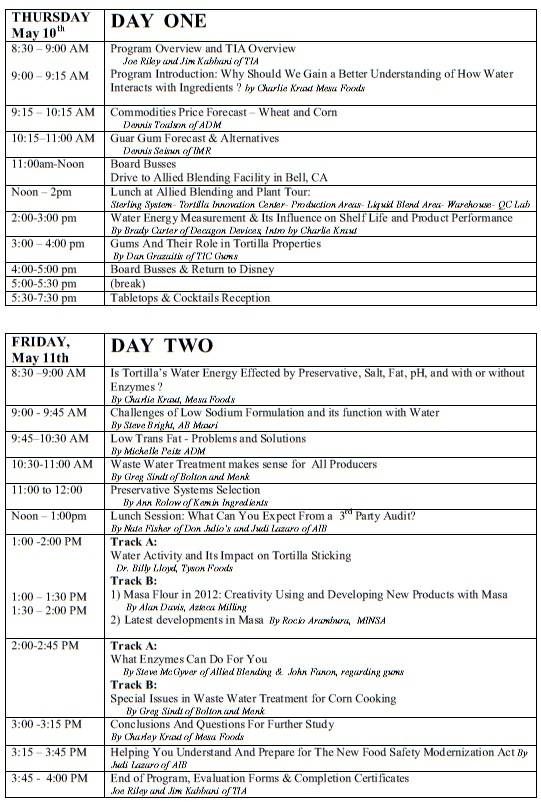 *** SPACE IS LIMITED ***
Click

Here

To Register Online, or

Click

Here

To Download and Print Registration Form
Click

Here

For Sponsorships & Marketing Opportunities
Certificates Of Completion Available At End Of Conference

FOR MORE INFORMATION PLEASE CONTACT:
Jim Kabbani
Direct: 703-819-9550
E-mail: jkabbani@tortilla-info.com